Mike Murphy Ford is Going Green!! 
Mike Murphy Ford has a long-term goal to decrease its environmental impact of energy consumption by continuously reviewing our facilities energy practices.  We strive to take energy conservation measures whenever possible, and explore the use of renewable energy to reduce our carbon footprint. These guiding principles were fundamental in several 2017 projects that have yielded significant results. 
Our most significant project was the conversion of our Jackson Street exterior vehicle display lighting from metal halide lighting to LED. Widespread use of LED lighting has the greatest potential impact on energy savings in the United States.  With a nearly 7-acre footprint under lights, the results of our conversion project have been significant. Mike Murphy Ford was able to reduce costs for our exterior illumination by 70%. Similar gains were achieved by converting the lighting on the outside of the facility as well. LEDs do not have the environmental issues common to traditional lighting solutions like fluorescent or mercury vapor lights. Both of these traditional solutions contain mercury internal to the bulb and thus require special handling at the end of the product's useful lifespan. None of these considerations are necessary with LEDs.  Showroom lighting and our service shop have also been converted to LED from fluorescent.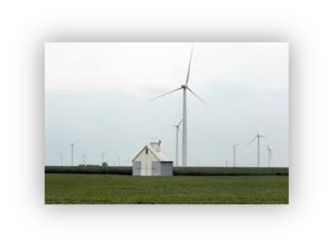 In conjunction with the lighting project above, Mike Murphy Ford partnered with an electric supplier that purchases its electricity supply from wind farms. Wind farms provide a renewable energy source for electricity and is a clean fuel source. Wind energy doesn't pollute the air like power plants that rely on combustion of fossil fuels, such as coal or natural gas, which emit particulate matter, nitrogen oxides, and sulfur dioxide-with the potential for human health problems and economic damages. 
And just as importantly, wind power is sustainable. Wind is actually a form of solar energy. Winds are caused by the heating of the atmosphere by the sun, the rotation of the Earth, and the Earth's surface irregularities. For as long as the sun shines and the wind blows, the energy produced can be harnessed to send power across the grid.
And we aren't finished yet! Mike Murphy Ford will continue on our journey to help the environment where ever possible. We currently offer electric or hybrid versions of the C-Max, Fusion, and Focus! Ford hybrid and electric vehicles feature advanced fuel-saving technology.
Whether they're operating in electric mode, gas mode or a combination of both, these vehicles optimize efficiency. And simplicity. The plug-in hybrid vehicles can be recharged in under three hours using a 240-volt outlet. When you drive a Ford hybrid or plug-in hybrid, you'll still stop at gas stations. But maybe just for coffee.
Stop in and talk to one of our Sales Consultants today to find out how you can help the environment with one of Ford's award-winning vehicles.